Next-Generation ION Remarks
Last year, NVIDIA's ION redefined the netbook category. ION netbooks delivered for an entire segment of the market that Intel wants to define by what it should not do. NVIDIA believes that a netbook can be a fully functional PC.
"Netbook graphics are inherently weak, especially with Intel's much-derided integrated graphics. But the new NVIDIA ION, like its predecessor, lets even a wimpy netbook Hulk out to play DX10 games and 1080p videos." - Gizmodo
At CeBIT 2010, NVIDIA did ION one better and introduced the next-generation ION graphics processor, energizing Intel's Atom processor. NVIDIA has over 30 designs expected by this summer with a range of OEM and Channel partners.
"If you're not happy with Pine Trail, we have to agree with NVIDIA on this one. Flash 10.1 support has been much better on NVIDIA GPUs than on the competition (though the 10.1 Beta 3 adds Crystal HD support), there are a few potentially useful CUDA apps, and light gaming support is an added bonus." - Anandtech
"The NVIDIA ION 2 GPU brings netbooks and nettops to an appropriate performance level for HD video playback, 3D gaming, and media conversion. That's very good because the GMA 3150 graphics unit which is integrated in the CPU provides extremely weak performance." - ZDNET.de
ION now has NVIDIA Optimus technology.
"As for Optimus, it's a substantial feather in the company's hat. Battery life is a high priority these days at all price points; the ability to switch flawlessly back and forth between graphics processors could give Team Green a leg up over AMD in the mobile space." - Hot Hardware
"Due to the Optimus technology the ION graphics chip is automatically switched on only if required. Therefore the standard battery life time without graphics load is comparable to netbooks without ION. Compared to ION 1 netbooks ION2 provides clear improvements concerning the battery life time due to Optimus." - Notebook Check
Next-generation ION offers over 10 times the performance of Intel integrated graphics.
"NVIDIA has always dragged Intel out behind the woodshed for a solid drubbing in terms of graphics performance and features, and NG-Ion is only going to exacerbate the difference." - Hot Hardware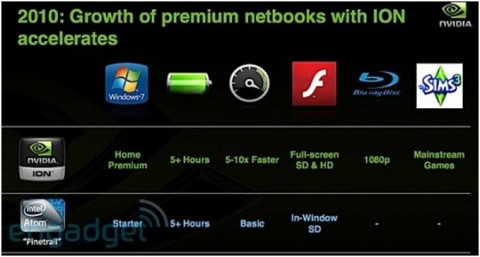 With next-generation ION, consumers can experience 1080p HD video on web sites like YouTube HD or from Blu-Ray discs.
"We were lucky enough to get some time with the next-gen ION, to watch a Blu-ray disc being played (from an external drive), as well as YouTube HD and full HD film trailers - all the things a regular netbook won't do." - Pocket Lint
NVIDIA ION plays the most popular PC games, such as World of Warcraft and Spore.
"The possibility of making our own home videos on something as small and portable as the Acer Aspire One 532G is pretty exciting. Not to mention the great gaming experience on titles like Spore or World of Warcraft. We saw a demo of the Boxee application backed up by Ion 2 (smooth and slick – we can't wait to go more in-depth), and with Flash 10.1 hardware acceleration, no video on the Internet will be off-limits to netbooks, even at full screen." - Laptop
To top it off, NVIDIA ION enables the full Windows 7 Home Premium experience.
"Both ION 2 versions will have support for HDMI or DisplayPort technologies, and the vast majority of them will ship with Windows 7 Home Premium, since a better graphics chip can take advantage of Window 7's Aero interface." - PC Mag
"Besides, the ION makes it possible to provide netbooks and nettops with the more feature-rich and handsome version of Windows 7 - Windows 7 Home Premium." - Vesti Russia
Consumers want a compact, fully functional PC, and NVIDIA delivers with next-generation ION despite the roadblocks put in their way.
"NVIDIA's new next-generation ION technology was a necessary move from the team that has been pushed around by Intel for too long. Intel successfully cut NVIDIA out of the chipset business all together starting with the mainstream and enthusiast desktop nForce brand and now with the original ION. The only answer NVIDIA could respond with was a discrete graphics solution that still offers much better performance and loads more features than the Intel integrated offerings and connectivity through the PCI Express bus that Intel basically can't cut off." - PC Perspective
For a new netbook, the choice is simple.
"If you are getting a netbook, you should definitely look at Ion-powered systems, the difference in performance is simply too great to ignore." - Ubergizmo
Cool Optimus Demo
NVIDIA made a blog post about a cool Optimus demo. NVIDIA Optimus optimizes the mobile experience by letting the user get the performance of discrete graphics from a notebook while still delivering great battery life. Optimus accomplishes this by automatically and seamlessly selecting the right graphics processor for the job between an NVIDIA discrete GPU or an Intel integrated GPU.
The cool thing is that when the discrete GPU is not in use, the GPU is electrically off and it does not even use a trickle of the battery. This video proves it by ripping the GPU out of a running system - and it keeps running!
WSJ's Mossberg Solution Tries 3D Vision
3D is everywhere and it is just a matter of time before it becomes ubiquitous on anything with a screen. You can have it now and take it on the road with NVIDIA 3D Vision notebooks. Wall Street Journal's Mossberg Solution section recently took the technology for a spin looking at the NVIDIA 3D Vision notebook from Asus and a model that uses different technology from Acer.
"Now on a laptop, it displays 3D images to people as long as they're wearing special battery-powered glasses and are standing no more than 40 feet away. These NVIDIA glasses deliver the highest resolution possible per eye and enable wide viewing angles. The screen also has a high refresh rate of 120 Hz compared to the Acer's 60 Hz."
NVIDIA 3D Vision is a complete ecosystem of 3D products which supports standards such as Blu-ray 3D and also adds experiences and features which are only available to NVIDIA GeForce GPU owners. 3D Vision allows you to watch Blu-ray 3D movies, play games in 3D, view pictures in 3D (using the Fujifilm Real 3D camera), and even watch YouTube in 3D.
ION For A Great HD Experience
NVIDIA ION GPU with an Atom CPU delivers a premium PC experience. ION is a world-class product that allows users to watch HD video, edit their photos and video, play modern games and accelerate Flash videos. Another way to get HD on an Intel Atom CPU is to add the Broadcom Crystal HD chip. It used to not support Flash, but it "sort of" does now.
"We've been highly skeptical of the benefits of buying a Netbook with a built-in Broadcom Crystal HD video accelerator. First, we're fans of NVIDIA's ION GPU, which not only provides similar HD video playback assistance but also basic 3D graphics support. Second, the Broadcom part wasn't supported by Adobe's Flash player, making it useless for streaming Web video, which is what we'd imagine a lot of Netbook owners would want to play."
It is not without problems however.

"There's no doubt in our minds that the HD playback experience on the Mini 210 is miles ahead of that of a Pine Trail netbook without Broadcom inside and that counts for something. However, we have to say that it isn't as seamless as it needs to be for the end user and the solution continues to have more restrictions than NVIDIA ION-based netbooks."
"Despite the modest improvements we saw, there's still a major problem with relying on a beta version of third-party software to achieve the minimal level of functionality consumers would expect from a Netbook with something called an HD video accelerator."
Optimus Popular At CeBIT
At CeBIT 2010 there were nearly 20 different Optimus notebooks and netbooks are on display. Asus had a dozen models with Optimus. MSI entered the Optimus picture with their FX 400 and FX 600, both of which feature an NVIDIA GeForce 310M GPU with NVIDIA Optimus technology. Other Optimus models to make the scene at CeBIT include models from Clevo, the Medion Akoya P6622 with GeForce 310M and the recently announced Acer Aspire One 532g with next generation NVIDIA ION on board.
NVIDIA Partner Apps Explained
Here is a handy video that covers seven applications that use NVIDIA CUDA technology to accelerate their applications. It includes a 3D Vision demo from Siemens Medical, and CUDA applications from Kaspersky Lab, Muvee, CyberLink, Agilent, Adobe, and MotionDSP.
Tegra Takes Pad Computers To The Next Level
Tablets PCs or pad computers are an emerging section of the PC market right now. OEMs are scrambling to get their entry to market. NVIDIA is applying the optimized PC concept to pad computers with the Tegra chipset.
"NVIDIA has been promoting a newer paradigm for modern computing and one that makes a lot of sense. The idea is that with newer machines the great demand on the part of the user is for more and more multimedia including movie watching, TV, video clips, flash animations and a slew of other uses that require little CPU power and lots of GPU power."
NVIDIA helped OEMs redefine netbooks with ION. NVIDIA is in process of helping laptop makers redefine battery/power expectations for notebooks with Optimus. In this spirit, it seems that OEMs that turn to NVIDIA for help for pad computers are making smart moves. Notion Ink seems to be the belle of the ball.
"Curiously, the most interesting one appears to be coming out of India using the hottest new NVIDIA Corp. chip to power it. Already previewed at various international trade shows, a look at the specifications tells me that unless the thing simply does not work as advertised this could be the hottest and most usable pad computer on the market."
Take a closer look at the Notion Ink tablet on this BSN article with videos.