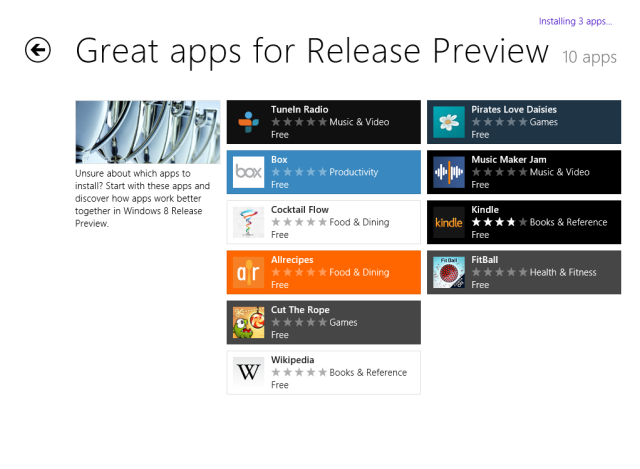 "OK apps for Release Preview" might be a better heading, but who are we to argue?
Windows 8 Release Preview
With the release of
Windows 8 Release Preview
, Microsoft is finally giving users a better look at its grand plan for apps. This time around,
there's a revamped version of the Windows Store
'where users will buy and install apps designed for Windows 8's Metro interface'and it bears a much closer resemblance to how the final version will likely appear.
But more important is what's
in
the store. Developers have been working since February's
Consumer Preview
release to prepare a new batch of Metro-styled apps, with everything from games to newsreaders making the cut. Microsoft has even rounded up some of the best into a section called"Great apps for Release Preview."This collection includes TuneIn Radio, Box, ****tail Flow, Allrecipes, Wikipedia, Music Maker Jam, and Kindle, in addition to three games:
FitBall
,
Cut The Rope
, and
Pirates Love Daisies
. These aren't all particularly inspired choices, but they do shed some light on how Microsoftthinks third-party Metro development should look.
The three featured games run pretty much as you might expect'fullscreen and devoid of any Metro styling. It's the remainder of the apps in the collection that are most interesting, and it's clear Microsoft is focused on making many users' first impression of the OS a visually striking one. ****tail Flow, for example, is the best looking of the bunch. The app lists a number of popular ****tails, including recipes and required ingredients, with big photo representations for visual browsing. You can also add liquors and ingredients you own to your virtual bar, which filters potential recipes based on theliquorsyou have on hand. It's not an app with a lot of depth, but it perfectly encapsulates the sort of bold visual styling Microsoft hopes other developers will employ.
Read more
|
Comments
More...