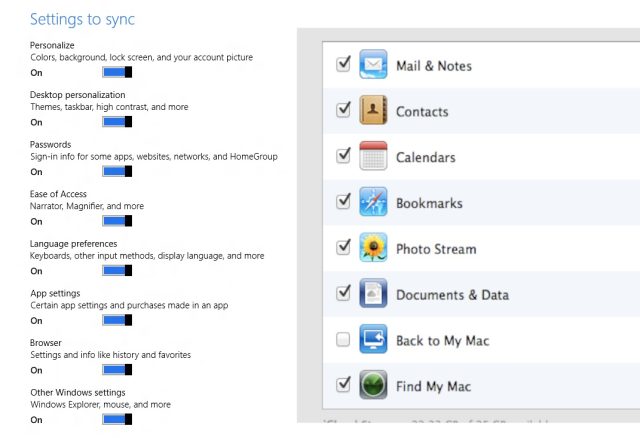 Windows 8's sync options side-by side with Apple iCloud. Microsft takes a different approach to sync, focusing on user configuration information rather than documents and other user data.
Windows 8 Release Preview
Microsoft has integrated its cloud computing features into much of Windows 8. The focal point of that integration is the
soon to be rebranded
Windows Live service'use a Windows Live account as your login, and you can synchronize much of the information associated with your account to all your Windows devices through the cloud. Or at least, that's the goal. Synchronization in Windows 8 Release Preview gets most of the way there, but there's still a bit of fit and finish work to be done on the back-end service before Windows 8 ships.
If you've used Apple's Mac OS X and iOS, you're probably familiar with Apple's idea of sync, as embodied by iCloud. Windows 8's sync is not iCloud'and that, in some ways, is a good thing. While the sync service will provide a connection between PCs, tablets and eventually even Windows phones, it won't do so in the data-intensive way that iCloud does (at least, not yet).
That's because Microsoft has taken a different approach to using the cloud than Apple, embedding a lot of the real heavy synchronization work into its Metro apps themselves based on the user configuration information stored in the cloud. So Windows 8's cloud sync features are more about handling administrative and user experience details than syncing large blocks of user data. If you want to move documents and pictures around betweeen devices,that sort of thing is left to SkyDrive.
Read more
|
Comments
More...