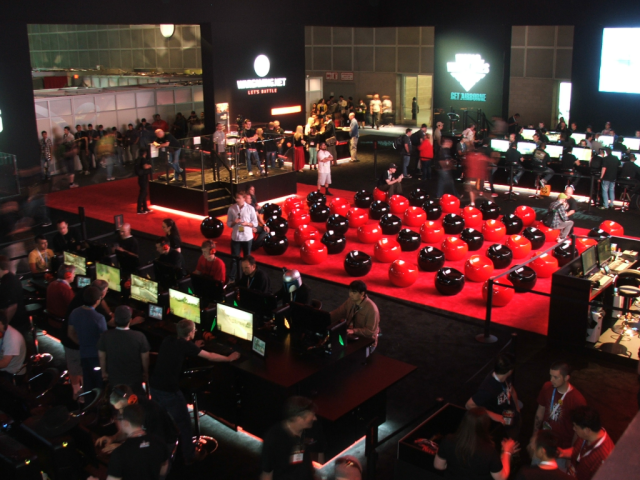 One photo can't capture the sheer size of WarGaming.net's massive E3 booth
Dennis Scimeca
It was difficult to capture the size of the booth Wargaming.net had at this year's E3 in a single photograph. I spent about 45 minutes trying to get the perfect shot, but it was impossible without a crane'maybe a helicopter. A bank of 24 gaming PCs stood on either side of a makeshift theater that sat 50 people in front of a video screen. It was a video screen that was preposterously huge, even by E3 standards. The elegant meeting room where I sat down withWargaming.net CEO and Creative Director Victor Kislyi featured a gold, modern-art-type chandelier hanging over a long conference table covered in press books and laptops.
The developer had a small booth at E3 2011, and a moderately sized booth at the Game Developers Conference and PAX East earlier this year. But the massive E3 2012 booth seems designed to give attendees a single, unmistakable impression: we have arrived.
Humble Beginnings
Kislyi has come a long way since first designing physical games directly on the bare floor of his Belarus apartment. 'We moved to a new apartment, and there was a linoleum floor. [I took] a ball[point] pen and [I drew] the landscape,' Kislyi told Ars. 'I was using cotton [balls] for infantry, then cotton with dots for archers, and used watermelon seeds for cavalry. I might claim'of course humorously'that I invented
Total War
20 years before they came up with it. I was playing with my brother and a couple of my friends, those
Total War
, massive numbers kind of battles on the floor.'
Read 16 remaining paragraphs
|
Comments
More...