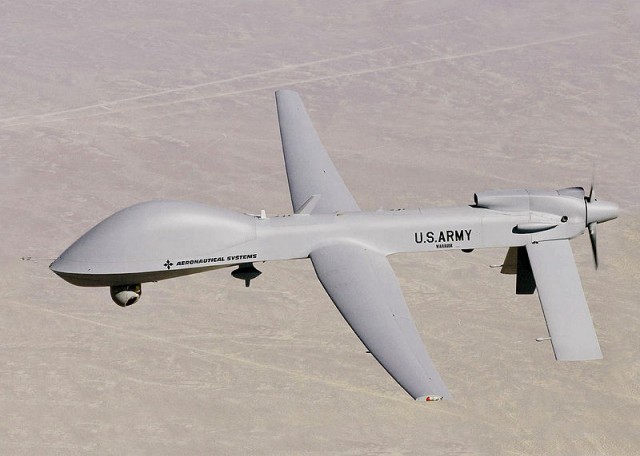 The MQ-1C Gray Eagle'coming to skies near you.
On July 5, the US Army announced it had completed a two-week demonstration of a new ground-based sensor system for its MQ-1C Gray Eagle unmanned aerial system that will allow UAS operators to detect and avoid other aircraft. The Army is now ready to begin the certification process with the Federal Aviation Administration to allow the Grey Eagle'formerly known as the Warrior'to fly unfettered in domestic airspace. The Army expects to start flying the UASs in domestic airspace for training by March of 2014.
The $90 million Grey Eagle is a descendant of the Predator and manufactured by General Atomics. The aircraft is a medium-range multipurpose UAV that has seen duty in Afghanistan with the Army. In the demonstrations held at the Army's Dugway Proving Grounds in Utah, the MQ-1C was tested with the Ground Based Sense and Avoid (GBSAA) system, a ground-based radar that monitors the UAV and the aircraft around it.
The GBSAA system will be deployed at five bases around the US where Gray Eagle squadrons will be home-based. Fort Hood, Texas will get the first installation, followed by Fort Riley, Kansas. Fort Stewart in Georgia, Fort Campbell in Kentucky, and Fort Bragg in North Carolina will get their GBSAA systems by 2015.
Read 4 remaining paragraphs
|
Comments
More...