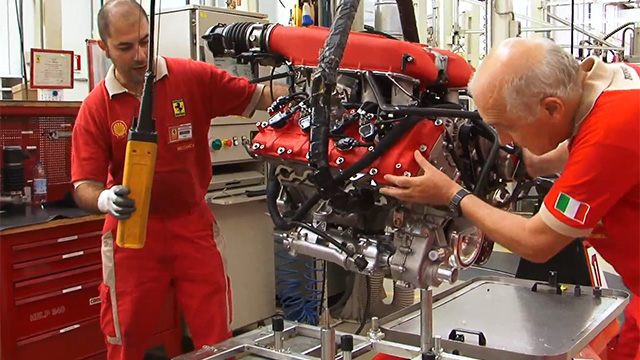 Workers assemble the engine for a Ferrari 458 Italia, which uses direct injection.
Ferrari
This week Ars talked about ambitious projects; some that were still in their infancy and others that were finally coming to fruition. One of the biggest projects, SpaceX's Dragon, berthed with the International Space Station this week. It was Dragon's second docking with the ISS ever, and quite a logistical feat. We also foundthe best "trolling the scammers" stories on the Internet: not only is it not an easy task for a fraud to scam someone into placing malware on their computer, but it's also an undertaking for serious "scam trolls" who sometimes dedicate hours to getting the last laugh from "tech support."
AuthorsJonathan Gitlin and Kyle Niemeyer took a look at another engineering puzzle: making auto engines twice as fuelefficient by 2025. And we talked about ambition on a macro-scale in a story about a mold that stores external memories of where it's been. Take a look at the list below and see if there's anything you missed from this week.
Read on Ars Technica
|
Comments
More...