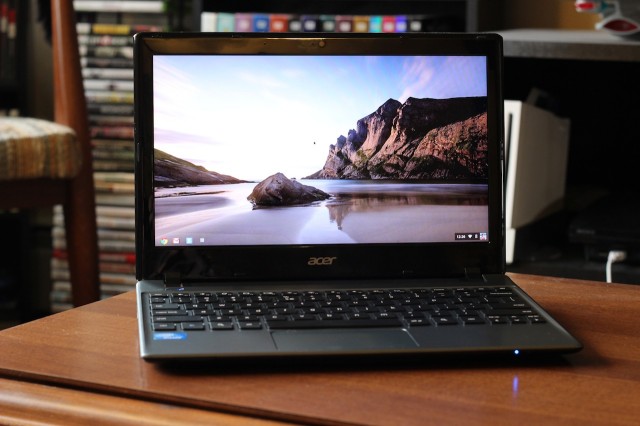 Acer's C7 Chromebook isn't the best computer we've ever used, but it's inexpensive enough to be worth a second look.
Andrew Cunningham
Specs at a glance: Acer C7 ChromebookScreen1366Ã?768 at 11.6" (135 ppi)OSChrome OSCPU1.1GHz dual-core Intel Celeron 847RAM2GB 1333MHz DDR3 (two slots, officially upgradeable to 8GB)GPUIntel HD Graphics (integrated)HDD320GB 5400RPM hard driveNetworkingDual-band 802.11nPorts3x USB 2.0, VGA, HDMI, 100 megabit Ethernet, card reader, headphonesSize11.22 Ã? 7.95 Ã? 1.08"(285 x 202 x 27.35 mm)Weight3.0 lbs (1.38 kg)Battery4-cell 37Wh Li-polymerWarranty1 yearPrice$199.99Other perksWebcam, Kensington lock slot, 100GB of Google Drive storage for two yearsI have two big problems with Chrome OS and Chromebooks as a product category. The first is I think that Chrome OS, while an interesting experiment, is limited by its very nature to a narrow set of use cases (mostly individuals and small businesses who rely overwhelmingly on Google and Google Apps for most of their work). The second problem is price: given how little Chrome OS does, the computers running it have typically been a bit too expensive compared to budget Windows laptops.
Samsung's
ARM-based Chromebook
helped to address the second point by offering a relatively decent laptop for $249, a much more reasonable price than the $449 Series 550 Chromebook introduced earlier this year. Now Acer has limboed even lower, offering its new Intel-powered C7 Chromebook for just $199. There's no question this laptop, which is simply a rebranding of its $329 Windows-running
Aspire OneAO756-2641
, is being sold at an appealing price. But are the trade-offs inherent to any laptop this cheap worth making?
Body and build quality
This Chromebook is priced at $199, but the build quality is reasonable, definitely not as bad as some $199 and $299 netbooks released over the last few years. It's a bit chunkier than Samsung's ARM Chromebook; it's 1.08 inches thick, up from about 0.66 inches, and weighs three pounds rather than the ARM Chromebook's 2.4 pounds.
Read 18 remaining paragraphs
|
Comments
More...