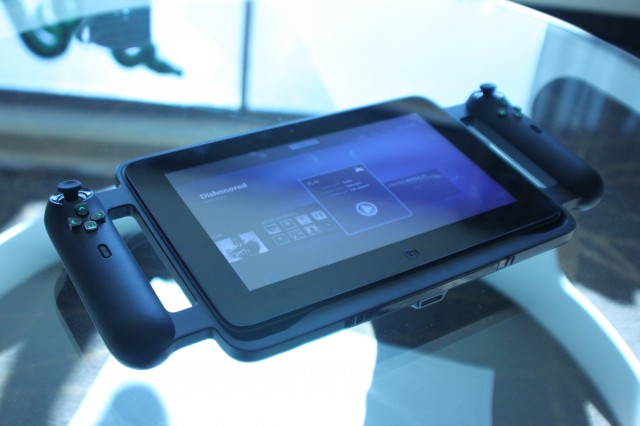 Those button/stick controls on the sides are now detachable from the base tablet itself.
Kyle Orland
The device now known as the Razer Edge has come a long way since it was
first unveiled as "Project Fiona"
at last year's CES. Back then, the Windows 7 tablet was permanently attached to a set of bulbous analog and button controllers that made it more of an oversized PC gaming handheld than a proper computing device. Now, the Edge is a low- to mid-range Windows 8 gaming PC that just happens to be packed into a multitouch tablet form factor.
Let's start with the specs. The Razer Edge, currently planned for release sometime this quarter, will come in two configurations. The $999 base model features an Intel Core i5 processor, Nvidia GT640M LE GPU, 4GB of DDR3 RAM, and a 64GB SSD. The $1,299 Razer Edge Pro upgrades the internals to include an Intel Core i7 processor, 8GB of DDR3 RAM, and a 128GB SSD (which can be expanded to 256GB at purchase time).
The Edge tablet is about twice as thick as an iPad, but it's only 25 percent heavier than Apple's ubiquitous tablet. The net effect is a device that is remarkably light for its 10.1-inch screen size and internal specs, and one that seems easy to hold with one hand while controlling it with the other. Razer CEO Min-Liang Tan told Ars that those specs were the result of a year of crowdsourcing to find out what level of power gamers wanted in a gaming PC at the $1,000 price point, and the company focused on keeping the device as thin and light as possible. That compact form factor does have one noticeable downside compared to most gaming laptops or PC towers, though: you can't open up the back to upgrade individual components as they start to become outdated.
Read 6 remaining paragraphs
|
Comments
More...