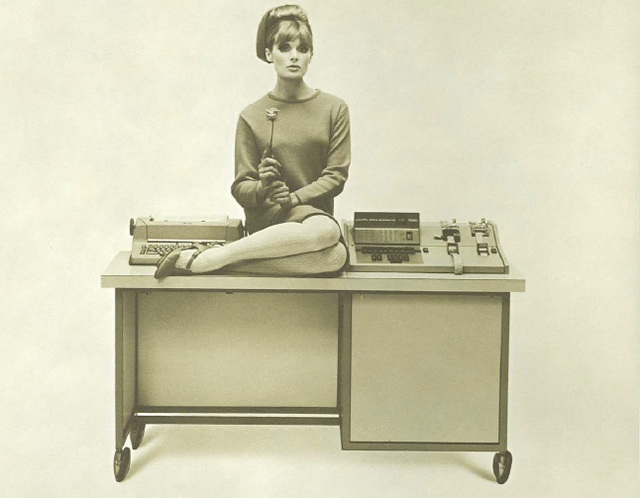 Cover photo for a 1964 brochure for the PDS 1020 Digital Computer.
Computer History Museum
Madison Avenue's strategy for popularizing computers shifted from the 1950s through the 1980s. At first pitches focused on reliability and speed, but by the 1960s, advertising brochures put big systems in gardens next to fashion models. When PCs came on the market, the sales pitch changed again. Computing went family friendly, with endorsements from Bill Cosby, William Shatner, and even Charlie Chaplin. Welcome to the Computer History Museum's "Selling the Computer Revolution" exhibit.
In 1983, advertising pioneer
David Ogilvy
summarized his mission as follows: "I do not regard advertising as entertainment or an art form, but as a medium of information. When I write an advertisement, I don't want you to tell me that you find it 'creative.' I want you to find it so interesting that you
buy the product
. When Aeschines spoke, they said, 'How well he speaks.' But when Demosthenes spoke, they said, 'Let us march against Philip'."
This Hellenic manifesto certainly gets to the point. Unfortunately, Ogilvy's battle cry offers little guidance for helping us view advertising spots from a half century ago'the kind that fans of the AMC series
Mad Men
see being worked out alongside the personal lives of Don Draper, Peggy Olson, and Pete Campbell. The dictum offers even less aid considering the ads hawk items so outmoded that even Ogilvy's skills could not inspire us to march on our local electronics store.
Take, for example, sales literature for mainframe computers made and marketed in the 1950s and 1960s. Even after reading a classy three color foldout for a room filling UNIVAC or PDP-5, would you buy one today? No way unless you are a dedicated collector. But now, thanks to the Computer History Museum's wonderful exhibit titled
Selling the Computer Revolution
, we can appreciate the considerable creative effort that went into making these machines attractive to business owners and consumers.
Read more
|
Comments
More...