If Google
really
hated piracy, it would let copyright holders supply takedown lists of unlimited length. That's the view of the recording industry, which yesterday issued a
blog post
from a top anti-piracy executive that blasted Google in the wake of the company's
updated Transparency Report tool
. That tool made clear that the major music and video copyright holders were not actually using Google's takedown tools to their full extent; indeed, Microsoft dwarfed any other single rightsholder in using Google's takedown system.
In the last month, for instance, the infringement detection company Marketly LLC topped the takedown list with 380,000 takedowns, all on behalf of Microsoft (read our
recent interview with the Marketly CEO
). The next three spots on the list belong to NBCUNIVERSAL (209,000), the British music trade group BPI (193,306), and a company called Takedown Piracy LLC (133,756). No one else on the list even cracks 100,000 takedowns.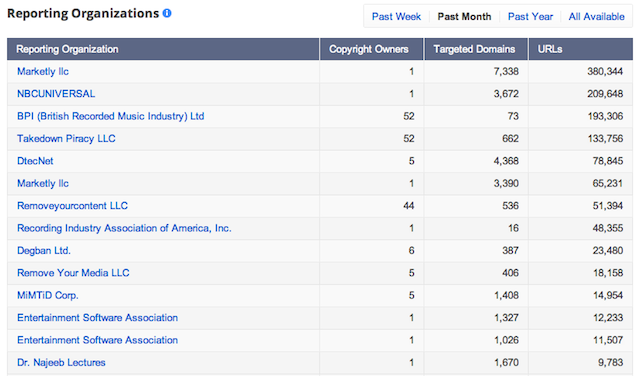 The last month of takedown requests for Google's Web search
Music labels have reasons for this. Generating the takedown lists takes real time and money, and it often feels like Whac-A-Mole'take down a link to a song and another identical copy takes its place.
Read more
|
Comments
More...