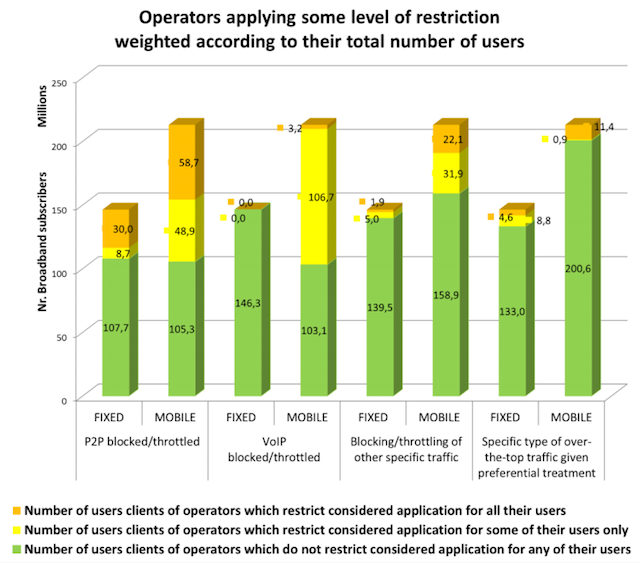 A weighted chart showing how ISP restrictions affect users in Europe
BEREC
Want to make a Skype call through your smartphone in Europe? At least one-fifth of mobile broadband users on the continent face technical or contractual restrictions on their use of VoIP products, while more than a third of European mobile users also have restrictions on their P2P usage.
When it comes to the fixed-line Internet market, the situation with regard to blocking and throttling is better. VoIP is almost never limited, though P2P usage can be. But the real concern comes from wireline companies which manage their network to offer "specialized services"'think TV, like AT&T's U-verse in the US. Regulators note that 35 percent of wireline operators take various approaches to prioritizing these services in ways "which could potentially affect the (public and best efforts) Internet access service being delivered through the same access network."
The results come courtesy of a new
European-wide survey on ISP practices
(PDF), one performed by the meta-regulatory group Body of European Regulators for Electronic Communications (BEREC). BEREC's various national regulators wanted to know if more prescriptive network neutrality rules are needed to preserve the open Internet; to begin their consultation, they surveyed several hundred European mobile and fixed-line operators.
Read more
|
Comments
More...