Verizon's shared data plans will finally be available to customers
starting June 28
. Well, not exactly shared data plans'plans that share everything, including data, unlimited texts, and unlimited voice minutes. Currently, there's no way to get shared data without an otherwise fully unlimited plan.
Verizon
and
AT&T
have been promising shared data on family plans
for some time
, saying it was a logical evolution of the way phone plans have been offered. Verizon's new plan charges an "account access" rate based on the size of the shared data bucket, and then a separate fee per device that uses the plan. The least expensive access fee is $10 per tablet, going up to $40 per smartphone. Plans start at $50 to share 1GB, up to $100 for 10GB.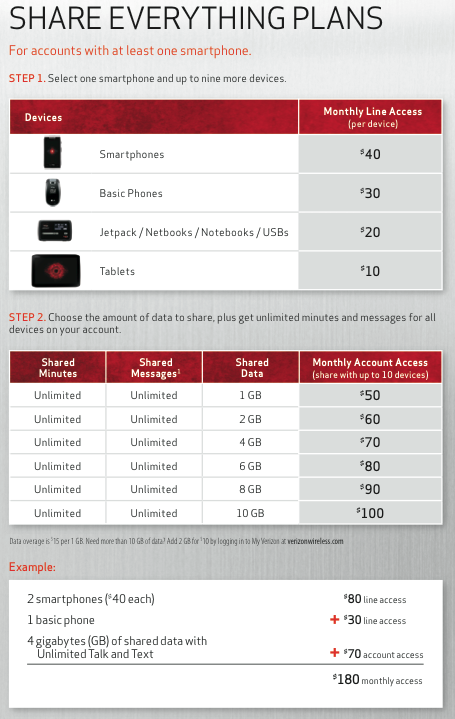 The breakdown of the charges for Verizon's "share everything" plan.
Verizon (PDF)
While families may have endless permutations of device combinations, one of the use cases we expected to be alleviated by shared plans is that of a single user with a smartphone and tablet. Previously, such a person would have had to buy separate data plans for each device.
Read more
|
Comments
More...