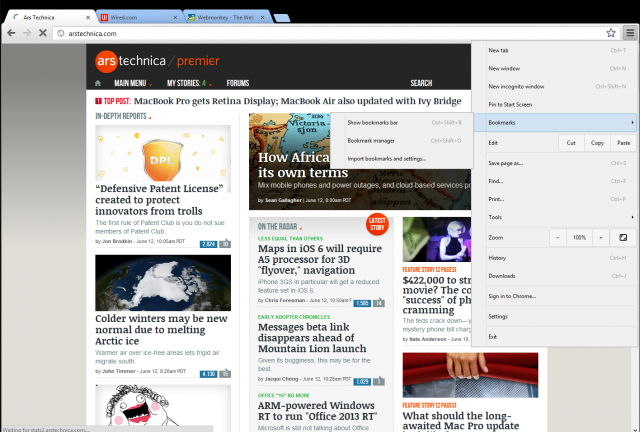 Running Chrome in the Windows 8 Metro environment.
Google has rolled out experimental support for running Chrome in the Windows 8 Metro environment. The feature landed yesterday in the
Chrome developer channel
and is available for testing on the Windows 8 Release Preview.
As we
reported
earlier this year
, Mozilla and Google are working to bring their respective browsers to the Metro environment in Windows 8. Microsoft has created a special class of hybrid application specifically for browser vendors that will allow them to support both Metro and the traditional desktop with a single program.
The new application type, which is designated "Metro style enabled desktop browsers," comes with a few caveats. In order to operate in the Metro environment, a browser will have to be configured as the platform's default. Hybrid browsers that are not set as default will simply open in the traditional desktop when launched from the Metro environment.
Read more
|
Comments
More...