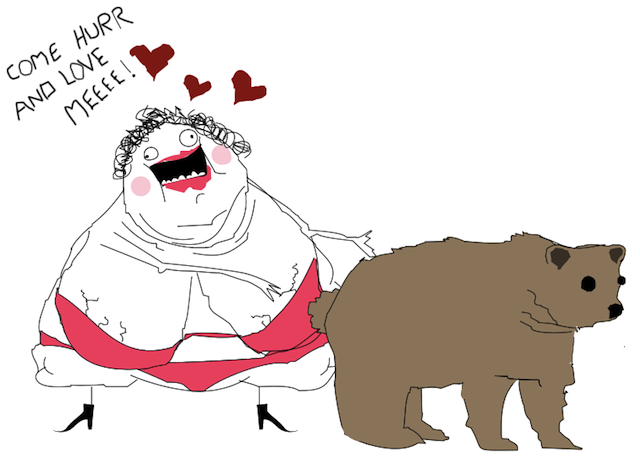 The Oatmeal's rendition of Carreon's mother attempting to bed a bear.
The Oatmeal/Matthew Inman
Lawyer Charles Carreon's attempt to shut down Web cartoonistThe Oatmeal's taunting charitable fundraiser has been denied, according to Indiegogo, the service used to collect the money. Carreon, who threatened to sue The Oatmeal (alias Matthew Inman) for defaming FunnyJunk.com if he didn't pay Carreon $20,000, has complained that the fundraiser violated Indiegogo's terms of service.
Carreon
demanded the money
as penance for a blog post that Inman wrote stating that humor site FunnyJunk was stealing content from
The Oatmeal
, Inman's website. Inman responded by pledging to raise the money Carreon requested, and then to donate it in equal parts to the National Wildlife Foundation and the American Cancer Society (also known as "
Operation BearLove Good, Cancer Bad
").
Carreon received antagonistic e-mails and was sent many copies of Inman's drawing of Carreon's mother attempting to seduce a Kodiak bear by fans of Inman, to
his shock and surprise
. The lawyer subsequently removed his contact info from his website. Carreon told
MSNBC
that he believed that the fundraiser violated Indiegogo's terms of use, and "sent a request to disable the fundraising campaign."
Read more
|
Comments
More...