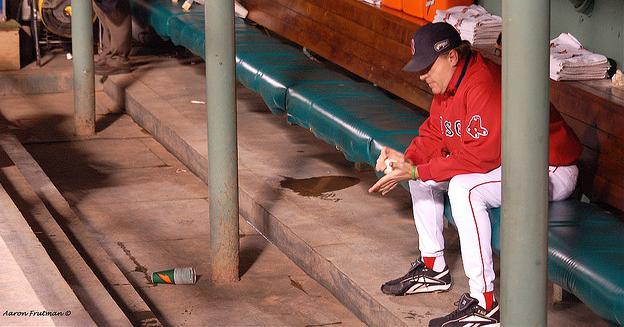 Curt Schilling before pitching his final World Series game for the Boston Red Sox.
Aaron Frutman
A month or so before the stunning
financial collapse
of Curt Schilling's 38 Studios, I plunked down $60 for
Kingdoms of Amalur: Reckoning
, the only game the studio ever made. I couldn't get enough. I played day and night, happily shelling out another $20 on expansion packs to keep questing and battling well past 50 hours.
As a lifelong Red Sox fan and video game nut, I was happy that a man who helped the Sox win two World Series was the driving force behind a game I loved. But then, everything collapsed for Schilling, the sports hero who wanted success in the video game industry so badly he abandoned his political principles to achieve it.
Curt Schilling. Even if you've never watched a baseball game, you probably know his name by now. He's that guy who bilked Rhode Island taxpayers out of hard-earned cash. The guy who
said
government-funded programs are nothing but trouble, then built a company with $75 million in Rhode Island taxpayer money. The guy who
blamed
the state that gave him all that cash when he couldn't pay his bills and laid off his entire staff of 379 employees.
Read more
|
Comments
More...