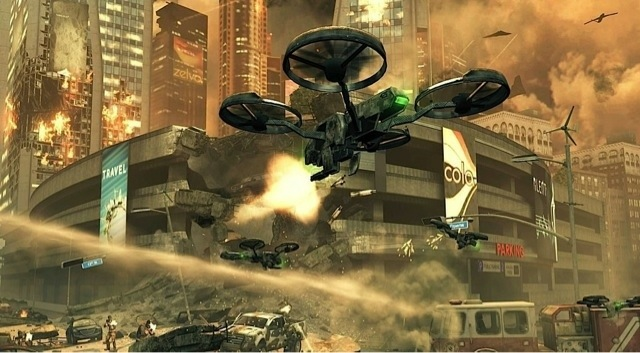 As if you don't have enough to worry about,
Black Ops 2
wants you to worry about unmanned military drones turning against us.
Treyarch / Activision
There's a new kind of fear that seems to be creeping in to the storylines of the next round of AAA blockbuster video games. These aren't the usual, fantastical fears of zombies or alien attacks in the classic vein of countless dumb action games, but rather fears of very real social and political problems that have been distorted to seem even more terrifying. From cyber terrorism and economic instability to torture and sexual assault, the games of this year's E3 seemed more than willing to twist real-world concerns and anxieties into all-too-convenient plot points.
The dumb action games have found their new straw man.
Drones are the new Nazis
Call of Duty: Black Ops 2
is leading the charge, with the game's director boasting that this would be the most provocative and controversial
CoD
game yet (which is saying something, as 2009
Modern Warfare 2
has players leading the interactive slaughter of dozens of innocents.) This time they're
stoking fears of a terrorist cyber-attack on the United States' unmanned military drones
, which are turned against us at home and abroad.
Read more
|
Comments
More...