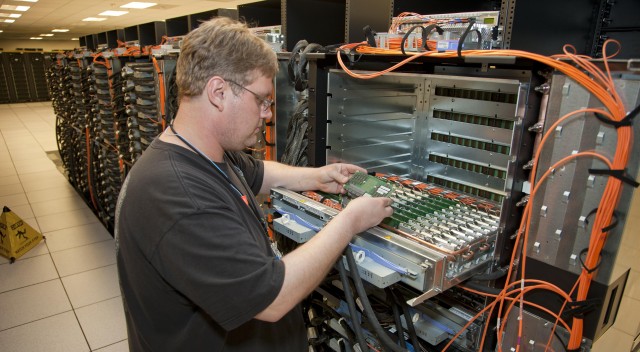 An IBM technician loads CPUs into Sequoia, the world's fastest supercomputer.
Lawrence Livermore National Laboratory
Every six months, Earth's biggest supercomputers have a giant race to see which can lay claim to being the world's fastest high-performance computing cluster.
In the latest
Top 500 Supercomputer Sites
list unveiled Monday morning, a newly assembled cluster built with IBM hardware at the Department of Energy's Lawrence Livermore National Laboratory (LLNL) takes the top prize. Its speed? A whopping 16.32 petaflops, or 16 thousand trillion calculations per second. With 96 racks, 98,304 compute nodes, 1.6 million cores, and 1.6 petabytes of memory across 4,500 square feet, the IBM Blue Gene/Q system installed at LLNL overtakes the 10-petaflop, 705,000-core '
K computer
' in Japan's RIKEN Advanced Institute for Computational Science.
The Japanese computer had been world's fastest twice in a row. Before that, the top spot was held by a Chinese system. The DOE computer, named '
Sequoia
,' was delivered to LLNL between January and April. It's the first US system to be ranked #1 since November 2009.
Read more
|
Comments
More...