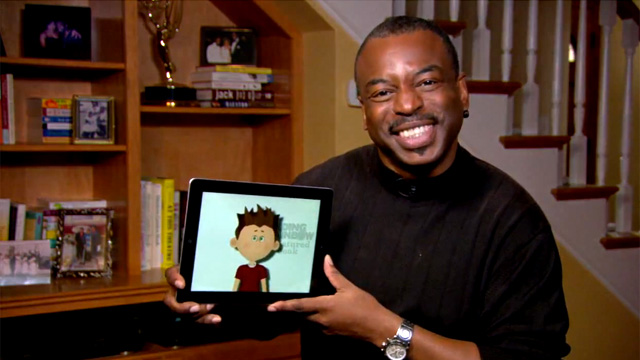 LeVar Burton demoing the new Reading Rainbow app on an iPad.
LeVar Burton
"The mission of
Reading Rainbow
has always been to use the prevailing technology of the day to steer children toward literature." That's what LeVar Burton'actor, celebrity, and brainchild behind the old television classic
Reading Rainbow
told Ars on the phone on Thursday. That conversation followed the successful launch of his
new Reading Rainbow app for the iPad
. But this isn't just some cash grab thanks to the explosion of App Stores on mobile devices like the iPad'the launch of the iPad
did
inspire Burton. He wanted to pursue the app route with his old brand, but the modern
Reading Rainbow
's roots go back to before the iPad had even hit the market.
Reading Rainbow
, the television show, was on the air for 26 years before ending in 2006. PBS eventually stopped running it in 2009 due to
lack of funding
, and in February of 2010 at the Macworld Expo in San Francisco,
Burton made his first announcement
about the future of the brand. At that time, Burton was on stage with
New York Times
columnist David Pogue and I was sitting just a few rows back watching the whole spectacle. Burton made mention of
Reading Rainbow
coming to the Internet; my interest was instantly piqued.
"It was really, pretty much born in earnest with that announcement with David Pogue on stage," Burton told Ars. "I have to admit that we didn't know what we were doing back then."
Read more
|
Comments
More...