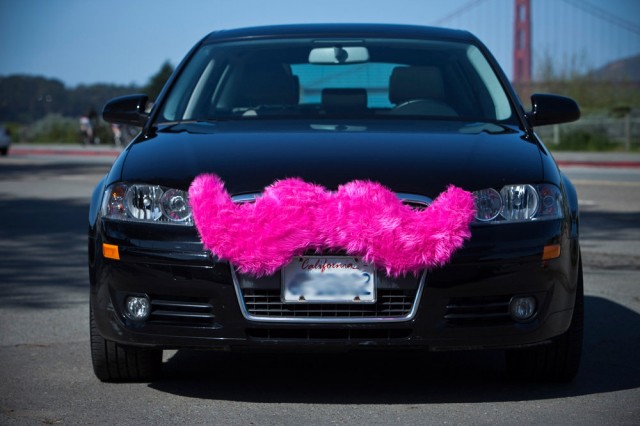 Ladies and gentlemen'the Carstache.
Carstache
SAN FRANCISCO'As I drove over the Bay Bridge and passed into the city on a recent Friday afternoon, I faced a crisis of will. Was I truly willing to attach a hot pink
Carstache
'which is precisely what it sounds like'to the grill of my black Toyota in the name of journalism?
I pulled onto Harrison Street, into a section of the SoMa (South of Market, San Francisco's startup hub) district that's full of new high-rise residential buildings. I stepped out into the summer afternoon, opened my trunk, and whipped out the ridiculously large but definitely distinctive Carstache. I walked to the front of my car and did the deed. Carstache affixed. Now I was set to begin my first work shift.
Last week, I completed my orientation and training as a driver for
Lyft
. It's thenew service from
Zimride
, a ride-sharing website started back in 2007. Lyft launched in limited form back in late May. Its goal? To connect drivers and passengers through the company's free iPhone app. In essence, it's a social, tech-driven way to compete with taxis (notoriously difficult to find in San Francisco). Think
AirBnB
'another local startup that lets people worldwide rent out their extra rooms, apartments, homes, teepees, and yurts'but for cars.
Read 52 remaining paragraphs
|
Comments
More...