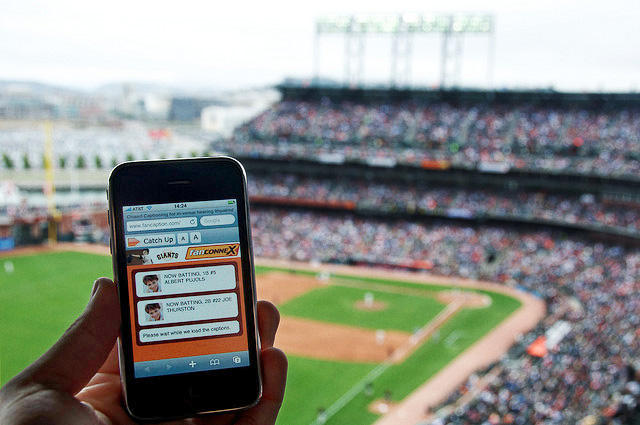 A smartphone at AT&T Park in San Francisco.
Tom Arthur
It's Sunday afternoon at the football stadium, and you're sitting in the upper balcony watching the hometeam quarterback drop back for a pass. Well, "watching" per se. You're actually staring into the ever-present glow of your smartphone ready to read an urgent memo from your boss; hoping to next check live stats because you're
so close
to finally winning a fantasy football game.
Then, tragedy strikes'your phone is showing five bars, but it's slowed to a crawl. You check the available WiFi networks:"Free Stadium WiFi." You select, but deep in your heart you know there's no chance of connecting up here, 100 feet below the cloud cover. And that's when you come to a horrific realization: I'm going to have to put my phone in my pocket and
actually
pay attention.
It's a 'scary' thought for sports fans: Someday soon, the wireless network at your favorite team's stadium could be so congested you'll actually be forced to'gasp!'watch the game you paid a ticket for. People like Katee Panter, VP of infrastructure technology at Madison Square Garden in New York, fear growing use of smartphones and tablets to surf the Web or stream video will make it difficult to provide cellular and WiFi connections for everyone. Teams are taking advantage of fans' handheld devices by building apps to serve up interactive experiences, or provide an easier way to order food and beverages. But delivering wireless Internet connections to tens of thousands of densely packed people is no easy technological feat.
Read 27 remaining paragraphs
|
Comments
More...