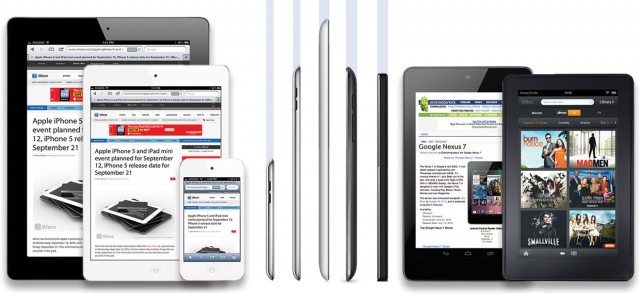 A mock-up of a potential iPad mini design compared to an iPad, iPhone, Nexus 7, and Kindle Fire.
iMore
Apple's
rumored iPad mini
could very well be a shrunken-down iPad 2, according to analysis by Instapaper developer Marco Arment. He recently
discovered
references to two previously unknown iPad models in logs that track device usage among Instapaper users, which suggest Apple may soon release two new variations of the iPad 2. Arment theorizes that these models in fact represent two variations of the rumored iPad mini, reportedly
launching in October
, and re-engineered to be less expensive than the existing iPad 2 model selling for $399.
"It's a textbook Tim Cook supply-chain move: selling the last generation's hardware at a lower price point to expand marketshare," Arment wrote on his
blog
.
Developers often collect anonymous usage statistics for their apps, which help them understand, among other things, what hardware is popular with users. With this data, developers can decide when to add features that only work on newer hardware, for instance, or when it's a good time to drop support for older OSes or hardware.
Read 6 remaining paragraphs
|
Comments
More...