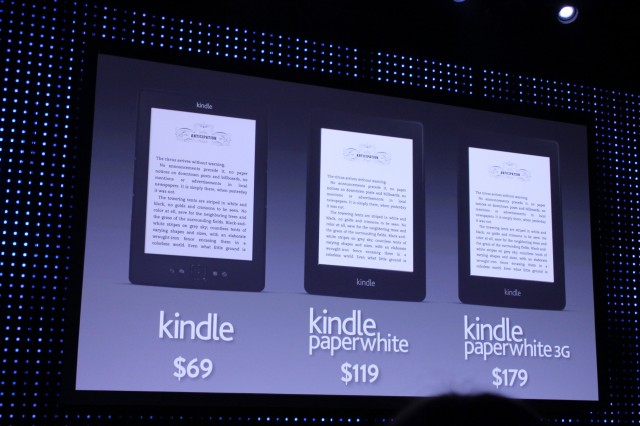 Amazon has unveiled an updated version of the Kindle Touch, called the Kindle Paperwhite. The new Kindle uses a soft frontlight that can be turned on for reading in low-light, and it also includes a higher resolution, 1024x768 capacitive touchscreen with "PaperWhite" E Ink technology that has higher contrast than the E Ink Pearl screens used in previous Kindles.The new Kindle will be available for $119, with a 3G model available for $179'both are scheduled to launch in the US on October 1.
Physically, the Kindle Paperwhite is similar to the old Kindle Touch, but it does make some tweaks: the body of the device is now a darker gray plastic, and the Home button on the front of the old device has been removed. The power button and mini USB port remain on the bottom of the device, as in the previous version. The new Kindle apparently gets about eight weeks of battery life, weighs 7.5 ounces, and is 9.1mm thick.
The new Kindle follows in the footsteps of Barnes & Noble's Nook Simple Touch, which introduced a model with a frontlight (called a GlowLight) back in April, and the Kobo Glo, a frontlit e-reader with a 1024x768 resolution that
Kobo announced just this morning
. While Amazon's model trails the competition in this respect by several months, the Nook and Kobo models still uses an E Ink Pearl screen with a slightly lower contrast, and the Nook's screen has a lower 600x800 resolution. Technical specs don't make or break an e-reader, but the Kindle Paperwhite's improvements give it an edge against the competition, and Amazon's huge e-book library doesn't hurt, either.
Read 1 remaining paragraphs
|
Comments
More...