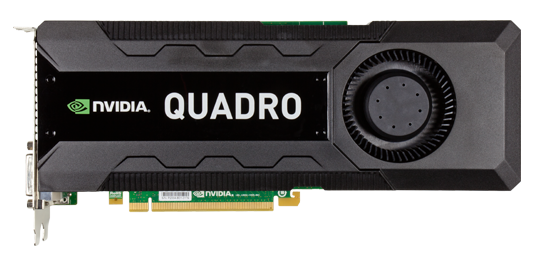 NVIDA
NVIDIA has
announced
the Quadro K5000 for Mac, its next-generation workstation-class graphics card for Mac Pro users. The new top-end card for video and graphics professionals supports up to 4K resolutions, the latest OpenGL and OpenCL standards, and promises to run "key content creation applications" twice as fast as the aging Quadro 4000.
The Quadro 4000 was released for the Mac in
late 2010
. Despite its
workstation pedigree
, however, it has suffered issues with drivers, giving stock "gaming" GPUs, like the latest from AMD or NVIDIA,
much better performance under OS X
.
The
Quadro K5000 for Mac
promises to change all that. Built around NVIDIA's latest "Kepler" architecture, the double-wide card boasts 1536 processing cores shuffling pixels at up to 173GB/s along a 256-bit path to 4GB of GDDR5 memory. The card supports Shader Model 5.0, Open GL 3.2 on Mac OS X, and Open GL 4.3 and DirectX 11 when running Windows under BootCamp. And, it can support up to four monitors: two running at 2560x1600 over dual-link DVI ports, and two running up to 4096x2160 over DisplayPort 1.4. All that power also fits within an Energy Star-rated 122W power envelope.
Read 3 remaining paragraphs
|
Comments
More...