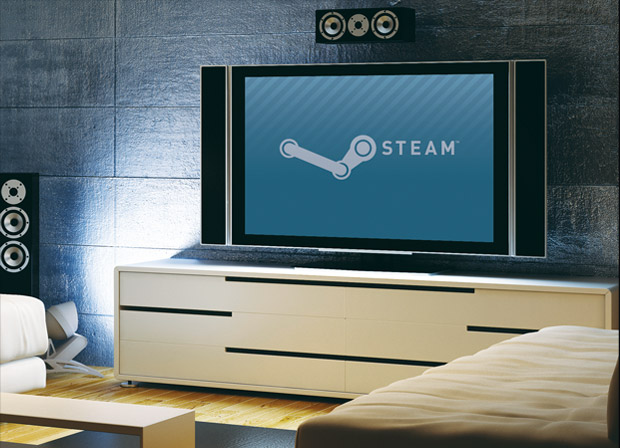 Valve will take its first big steps toward moving its popular Steam digital distribution service from the PC monitor to the living room TV on Monday by launching a beta version of its
long-planned
"Big Picture" interface
.
Kotaku got a chance to
try out the new mode
ahead of the public launch, showing off an interface comparable to the Xbox 360 dashboard, with bigger fonts and large, rectangular picture icons designed to be viewed from a living room couch rather than a desk chair. Navigation in Big Picture mode is handled with a standard handheld controller (like that on the Xbox 360), rather than a mouse and keyboard, letting users click the triggers to switch between tabs for the store, game library, and community features. An integrated Web browser is also designed to be used with a controller, letting users multitask without returning to the computer desktop.
For text entry and text-based communication, Big Picture mode also features
a unique on-screen keyboard
that has been redesigned to take advantage of handheld controllers. Rather than scrolling through a full on-screen QWERTY layout, users choose from eight groups of four letters by tilting the left thumbstick in one of eight directions, then choose a specific letter using the face buttons on the other side of the controller. The interface bears more than a passing resemblance to the
TwoStick text entry system
which was
first introduced back in 2007
, and reportedly leads to much faster text entry times than other controller-based on-screen keyboard systems.
Read 3 remaining paragraphs
|
Comments
More...