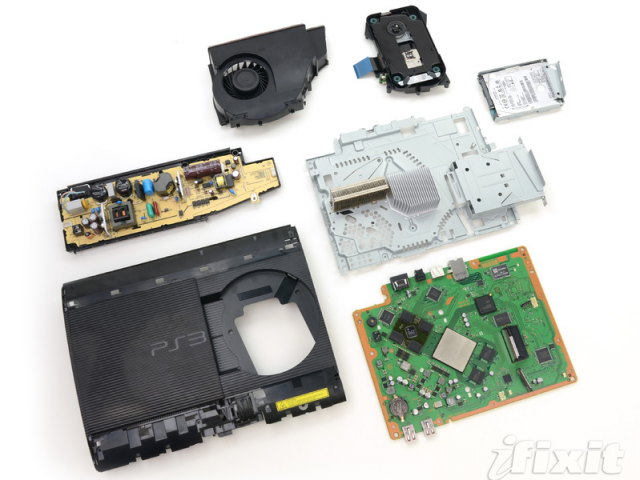 iFixit
The gadget teardown artists at iFixit have posted
a comprehensive disassembly
of
the new "Super Slim" PS3 units
that launched late last month in
a pricier bundle with Uncharted 3
. While the system packs its components into a much smaller volume than previous PS3 systems, the site found those internal pieces were relatively easy for hackers to access and potentially replace or augment.
The tweak-friendly design of the new, top-loading disc drive is probably the most important change from a repair standpoint. That drive rests on super-soft rubber bumpers that iFixit says help lower vibration noise, though the "thin, cheap-feeling plastic" drive cover on the top of the system doesn't do much to block the whirring coming from the drive itself. iFixit worries that this flimsy cover might break through prolonged use.
Super Slim owners can pop off the oval cover on the side of the system to reveal a hard drive enclosure held in place with a simple blue Phillips screw. Take that out, and you can put in any standard 2.5" laptop hard drive and use it with the new PS3 immediately, without needing to play with the firmware or any fancy hardware converters. iFixit says the hard drive replacement process only takes about five or ten minutes, continuing
a long tradition of easy hard drive upgradeability
for PS3 models (though a firmware update
briefly messed with that record in 2010
).
Read 2 remaining paragraphs
|
Comments
More...