AMD has just released some details about its newest tablet processor, codenamed Hondo, which will compete with
Intel's Clover Trail Atom chips
for use in low-end Windows 8 tablets. There actually isn't much new about the Hondo chip'it uses the same basic CPU architecture and integrated graphics technology as the current E-series APUs found in AMD-powered netbooks and low-end laptops. It's also built using the same 40nm manufacturing process. In general, AMD's chips have better CPU and GPU performance than the Atom chips in competing netbooks, but will this advantage extend to tablets?
The facts: decent hardware, OK battery life, no Linux support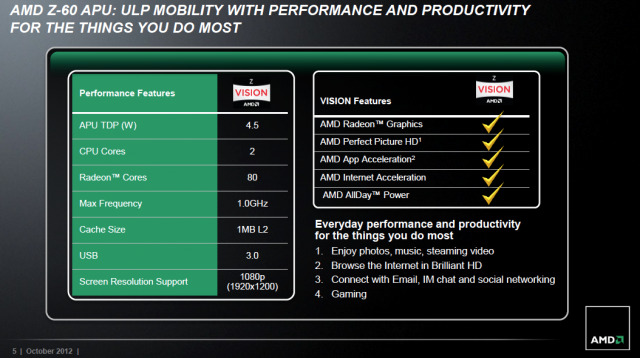 Enlarge
AMD
The Z-60 APU combines a dual-core CPU based on AMD's Bobcat architecture, as well as an integrated Radeon HD 6250 GPU. At 1GHz, the CPU is slower than the majority of the E-series CPUs you'll find in netbooks and low-end laptops using the processor. While the Bobcat architecture can usually beat Atom at the same clock speeds, the Clover Trail Atoms will be clocked quickly enough to erase AMD's CPU performance advantage.
The integrated GPU is labeled as a 6000-series part but is architecturally a 5000-series part. The GPU is still pretty advanced compared to the PowerVR SGX 545 in Clover Trail and the Direct3D 9-class GPUs paired with most current ARM chips: you get Direct3D 11, OpenGL 4.1, and OpenCL 1.1 support as well as HDMI and DisplayPort output support, and support for resolutions up to 1920x1200 (which includes 1080p support for 16:9 tablets). The GPUs also offer application acceleration for programs that support it, as well as video acceleration for codecs like MPEG2, MPEG4, H.264, and VC-1 due to the inclusion of
AMD's UVD3 video decoding engine
.
Read 6 remaining paragraphs
|
Comments
More...