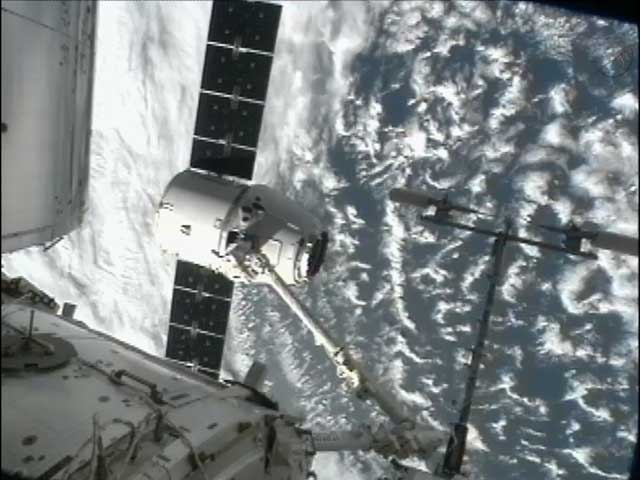 Dragon poses for inspection
NASA TV
In another picture-perfect arrival, the first official SpaceX cargo Dragon
pulled up with an initial shipment
of supplies to the International Space Station early Wednesday morning at 6:56am ET. It was the fourth successful launch of the Falcon 9 rocket, the third flight for a Dragon spacecraft, and its second successful berthing. Astronauts aboard ISS quickly captured the craft this morning, well ahead of the timeline. They'll spend the next few days unloading equipment and groceries.
This mission is entitled "CRS-1," denoting the first commercial resupply mission to the Station. If the rest of the mission, the separation and landing, take place without any hitches, Dragon will have completed a successful transition from NASA's Commercial Orbital Transportation Services (COTS) program to the new and ongoing Commercial Resupply Services program. SpaceX has a contract with NASA under CRS to deliver a total of 12 cargo missions.
A cargo Dragon spacecraft
berthed for the first time
with the Station at the end of May. That very successful COTS 2/3 mission combined what was to have been two flights, one to demonstrate the capabilities of the Dragon and another to actually berth with the Station. It was during that mission that the world was really introduced to SpaceX, the Dragon, and its new role as a commercial cargo carrier for NASA. Anyone who hadn't previously heard of the Dragon knew about it afterward, given the substantial news coverage that accomplishment received. COTS 2/3 was successful, from launch to splashdown and delivery of both a physical payload from the Station and an unintentional message to a skeptical Congress of changing times.
Read 7 remaining paragraphs
|
Comments
More...