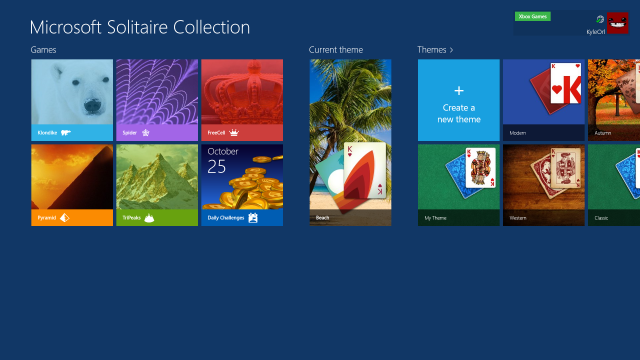 The free games that have been included with the various versions of Windows over the years occupy a unique position in the video game landscape. No one would include them on a list of the best or most influential games of all time, and it's unlikely any of them have ever acted as a 'system seller' to influence someone's choice of OS. Yet over the past decade, games like Microsoft's
Solitaire, Minesweeper
, and
Mahjong
may be the most widely played video games on any platform (though the
Angry Birds
games have probably come close to beating them). From bored hardcore gamers messing around on a borrowed laptop to bored secretaries on an extended coffee break to bored grandmas clicking away at their grandchildren's hand-me-down Windows 98 tower, you're unlikely to find a PC user that hasn't at least tried these titles at one point or another.
The free game tradition continues with Windows 8, but oddly enough, this year's collection of Microsoft-produced titles doesn't come preinstalled with the standard version of the operating system (we're guessing some OEMs might fix this oversight before shipping their hardware, however). Instead, the games are tucked away in the Windows Games Store alongside more professional third-party fare like
Fruit Ninja
and
Hydro Thunder Hurricane,
as well as countless cheap-o knock-offs like
Mahjong Plus
and
Card Game Collection
. Downloading and installing Microsoft's free titles is relatively easy, but we have to wonder how many Windows 8 users will actively seek them out, rather than stumbling upon them in a preinstalled Games folder.
The most immediately noticeable change to the free games in Windows 8 is that they're all designed to run primarily in full-screen mode as 'Windows 8 style' apps. On the plus side, this helps create some very streamlined interfaces without distracting window borders or menu bars getting in the way. Multitaskers can play some of the available games in "snap mode" by dragging the game to a small sliver on the left or right side of the screen, but the results are mixed'
Minesweeper
and
Wordament
work fine in this compressed space, but the card layout in the
Solitaire Collection
gets so cramped that it's nearly unplayable. If you want to play
Mahjong
or
Taptiles
while you're on a teleconference, you're going to need a dual-screen setup.
Read 33 remaining paragraphs
|
Comments
More...