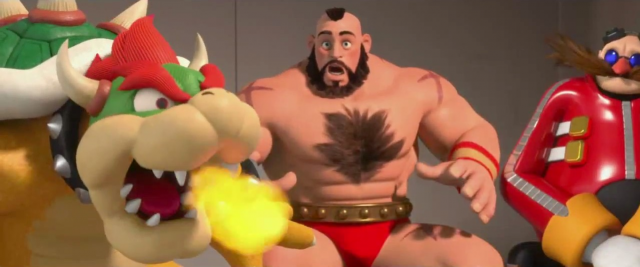 "I am bad... and that is good. I will never be good, and that's not bad."
Warning: Minor spoilers for Wreck-It Ralph follow, though they mostly deal with video game references rather than story particulars
Wreck-It Ralph
became the biggest box office opening for a non-Pixar Disney film in the company's history this weekend, bringing in over $49 million. That's an incredibly strong showing for a movie that had to manage a pretty mean feat: create a video-game-infused world with enough detail to satisfy game-obsessed children (and their retro game-obsessed parents), but also remain accessible and understandable to family members that haven't grown up in the arcana of gaming.
It's a balancing act the film handles well. Even non-gamers will immediately latch on to the
Toy Story
-like conceit of a world where arcade game characters are sentient beings, who have their own lives after clocking out of their jobs acting for the benefit of gamers. Ralph's story of wanting to leave his position as the 'bad guy' after 30 years and go off to prove that he can be a hero is instantly relatable'no special knowledge of gaming required.
Read 10 remaining paragraphs
|
Comments
More...