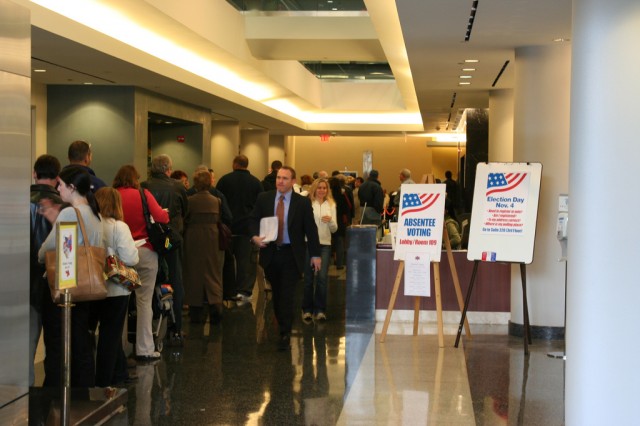 Voters stand in an early voting line in Arlington, VA.
moonShadows7
Reeling from the devastation of Hurricane Sandy, the state of New Jersey has taken the unprecedented step of allowing displaced voters to cast their votes by e-mail in Tuesday's elections. While New Jersey law has previously allowed electronic submission of ballots by voters overseas, the new program could involve a much larger number of voters. And it's being implemented with much less time to get the details right.
In a
directive
issued over the weekend, Lieutenant Governor Kim Guadagno announced anyone displaced by the hurricane would be considered an overseas voter for legal purposes. These voters will be allowed to request a last-minute absentee ballot by e-mail and submit the completed ballot by e-mail as well. As a security precaution, New Jersey law also requires that a
hardcopy of the same ballot
be sent by air mail to county election officials.
Matt Blaze, a computer security expert at the University of Pennsylvania,
cataloged
all the ways this scheme could go wrong. "Aside from the inherent security issues with e-mail, the rushed pace creates the biggest challenges here," he wrote on Sunday. "Each county now has to work at breakneck speed to develop robust processes for voter outreach, managing ballot requests, processing e-mailed ballots and secrecy waivers, etc."
Read 7 remaining paragraphs
|
Comments
More...