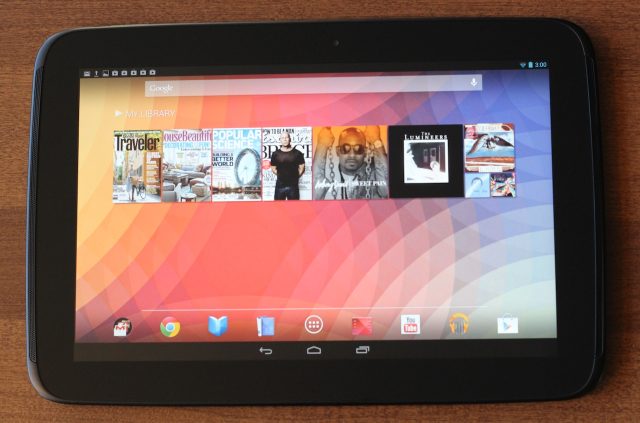 Is the Nexus 10 a 10-inch Android tablet we can believe in?
Andrew Cunningham
Specs at a glance: Google/Samsung Nexus 10Screen2560Ã?1600 10.055" (300 ppi) PLS touchscreenOSAndroid 4.2 "Jelly Bean"CPU1.7GHz Samsung Exynos 5 DualRAM2GBGPUARM Mali-T604Storage16 or 32GB NAND flashNetworking802.11a/b/g/n, Bluetooth 4.0, NFCPortsMicro USB, Micro HDMI, headphones, docking connectorSize10.39" x 6.99" x 0.35"(263.9 x 177.6 x 8.9 mm)Weight1.33 lbs (603 g)Battery9000 mAhStarting price$399 ($499 for 32GB)Price as reviewed$399SensorAmbient light sensor, GPS,Accelerometer, Gyroscope, Compass, BarometerOther perksPower adapterOne of the reasons we liked the
Nexus 7
so much was that it felt like a 7-inch tablet done
right
. Neither the form factor nor the $199 price point were new'Samsung, Amazon, Barnes & Noble, and others were all pushing 7-inch Android tablets'but the ASUS-Google joint was the first whose hardware, software, and price came together to make a convincing case for a smaller tablet.
The Google-backed, Samsung-developed Nexus 10 has no such luxury'not only is the 10-inch tablet market Apple's bread and butter, but competition from new Windows 8 and Windows RT tablets as well as other Android tablets is so stiff (and the signal-to-noise ratio is so low) that it's hard to stand out from the crowd. Further complicating matters is the fact that going all the way back to the Motorola Xoom, 10-inch Android tablets have had trouble gaining a foothold in the market, creating a dearth of tablet apps that is more noticeable on a 10-inch screen than a 7-inch screen.
The Nexus 10 is the first 10-inch tablet to bear Google's Nexus branding, and as such it has its work cut out for it: not only does it need to be a shining example of what a big Android tablet should be, it needs to convince developers and potential buyers alike that Android can offer as good an experience on a larger screen as its competitors can. Does it succeed, or is this just another 10-inch Android tablet that doesn't live up to its promise?
Read 44 remaining paragraphs
|
Comments
More...