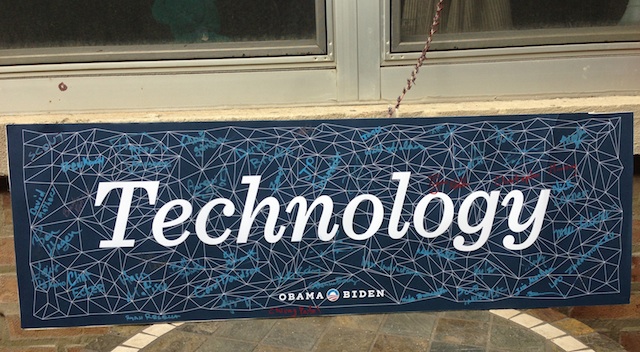 The tech unit's sign, autographed by its members.
The reelection of Barack Obama was won by people, not by software. But in a contest as close as last week's election, software may have given the Obama for America organization's people a tiny edge'making them by some measures more efficient, better connected, and more engaged than the competition.
That edge was provided by the work of a group of people unique in the history of presidential politics: Team Tech, a dedicated internal team of technology professionals who operated like an Internet startup, leveraging a combination of open source software, Web services, and cloud computing power. The result was the sort of numbers any startup would consider a success. As Scott VanDenPlas, the head of the Obama technology team's DevOps group, put it in a tweet:
4Gb/s, 10k requests per second, 2,000 nodes, 3 datacenters, 180TB and 8.5 billion requests. Design, deploy, dismantle in 583 days to elect the President.#madops

Read 53 remaining paragraphs | Comments





More...