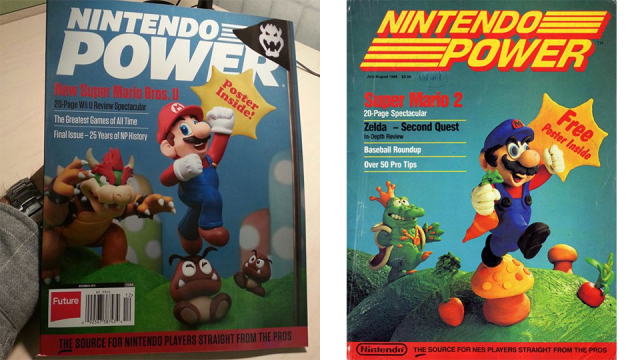 Back in August, when I was
the first to report that Nintendo Power would be ceasing publication at the end of the year
, I was largely able to compartmentalize my personal feelings about the move in favor of reporting on the facts. But today, when I saw the above image of the magazine's final cover (left)'one that pays loving homage to that iconic Issue 1 cover from 1988 (right)'it really hit me how much the death of
Nintendo Power
represents the end of an era.
I didn't subscribe to
Nintendo Power
until its second year in print, after I finally convinced my parents to get me an NES. I haven't actually read an entire issue cover-to-cover for about 15 years now (timing that roughly corresponds to when I got unlimited Internet access in my home). But for a period of about ten years in my youth,
Nintendo Power
(along with
GamePro
and
Electronic Gaming Monthly
) served as my main introduction to the larger world of video games.
At the time, the large screenshots and previews of titles that I would probably never own were the main draw. But looking back, I feel like the most important thing I found in those glossy pages was a feeling of connection to the larger world surrounding the games themselves.
Read 5 remaining paragraphs
|
Comments
More...