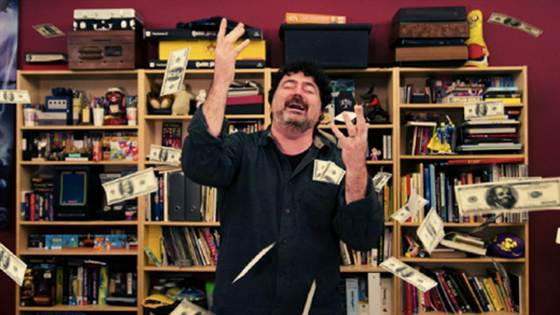 Image courtesy of Double Fine/GDC
There's never really a
calm
time in the game industry. Technological and market forces are constantly pushing the industry in new directions, both as a business and as an artistic medium. Still, 2012 felt like an especially eventful year for gaming, with long-standing trends like digital distribution, user-created content, and mobile/tablet gaming coming together in some new and interesting ways. Take a look at the evidence with the biggest gaming stories of the year.
Crowdfunding helps developers get around publishers
By far the most important, far-reaching trend in the gaming business this year was developers forgoing the traditional publisher model and reaching out directly to customers for startup funding through services like Kickstarter. Double Fine got the ball rolling by
raising $3.2 million for its "Adventure Game" Kickstarter
, but that was soon followed by
$3 million for a Wasteland sequel
,
$4.1 million for Obsidian Entertainment's Project Eternity
, and
more than $6.3 million for Chris Roberts' Wing Commander-alike Star Citizen
.
Hardware makers got in on the crowdfunding revolution too, raising
$8.6 million for the Android-based Ouya console
and
nearly $2.5 million for the Oculus Rift head-mounted display
. We could
keep
listing
Kickstarter
gaming
projects
large
and
small
, but there's only so much space on our servers...
Read 14 remaining paragraphs
|
Comments
More...