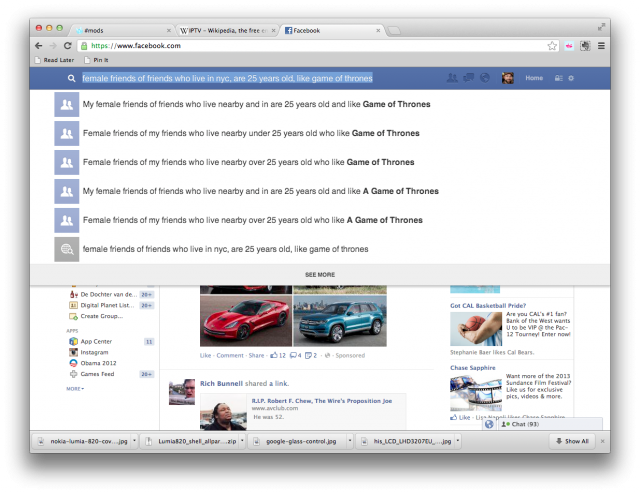 One of graph search's many applications: a dating service.
Facebook's graph search is not a replacement for Web search, or so the company insisted over and over at its press conference Tuesday. Instead, the search is meant to cull useful information from your social network (and beyond.)
The main reason to doubt the efficacy of a service like this is that many people do not comprehensively fill out their profiles. But when the service is aggregated over profiles beyond immediate friends, and as Facebook gets itself integrated deeper and further into the Internet as a whole, we expect that problem to fade'to an extent.
The function works remarkably well: Facebook pulls up results quickly in response to casually worded queries. The search bar will correct your search terms to ones it can understand: for instance, 'girls' or 'women' corrects the the chillier, scientific 'Females.' But the search also understands even more truncated terms, like 'sf' for 'San Francisco, CA' or 'nyc' for 'New York, NY.'
Read 10 remaining paragraphs
|
Comments
More...